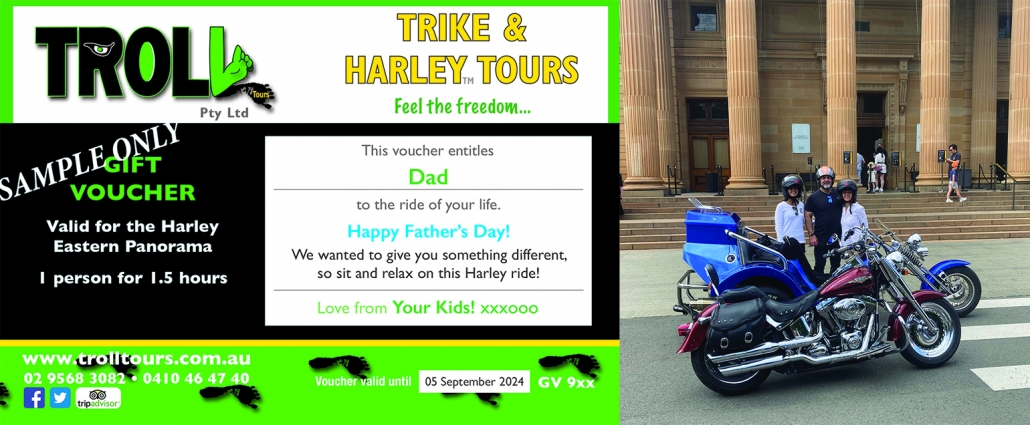 Six interesting facts about Father's Day you may not know. Father's Day is the perfect opportunity to remind the dads and father figures in our lives how much we care about them. But we haven't always had a special day devoted to dads. A Gift Voucher is a great present for Dad, he has 3 years to use it. Australia will have freedom to experience Sydney before then.
1. The first Father's Day was inspired by a single dad
Father's Day came about thanks to the daughter of a single dad called William Jackson Smart. A Civil War veteran from Washington in the United States, William's wife died during the birth of his daughter, Sonora Smart Dodd.
William raised Sonora and her five older siblings on his own. With Mother's Day celebrated each year, Sonora felt her Dad – and fathers everywhere – deserved a special day too. She campaigned for first Father's Day and the first one was held in her father's birth month, June, in 1910.
2. Father's Day initially received opposition in Australia
In the 1930s, the idea of a Father's Day started to take hold in Australia, with discussions cropping up each year after Mother's Day was celebrated in May.
Some didn't welcome the idea, though. In 1939, a Sydney newspaper published a piece about Father's Day, including comments from Reverend Rayward, superintendent of the Central Methodist Mission: "There is as yet no Father's Day. Commercial interests endeavour every year during September to initiate such a day, but it always falls flat. In view of the fact that the move is purely commercial, it deserves to do so."
3. Father's Day arrived in Australia in a different month
Mother's Day in Australia lines up with the rest of the world, in May. Father's Day; however, is celebrated here in September while dads in the UK, US and most other parts of the world celebrate it in June.
Most commentators suggest the date was chosen for commercial reasons and to fit around other dates on the Aussie calendar. However, way back in 1911 – only a year after the first Father's Day in the US – another Sydney newspaper reader suggested "seasonal" reasons: "September should be the month in which to hail him king, for, under the Southern Cross, it is in that month Dad's fancy lightly turns to thoughts of love." Now for the next (and last) three facts about six interesting facts about Father's Day.
4. Father's Day was well and truly alive in Australia in the 1940s
By the 1940s, Australia had embraced Father's Day and celebrated it on the first Sunday in September each year. Indeed, some had become a little too enthusiastic about showing dads how much they care.
On Father's Day in 1945, a discharged RAAF pilot, Maxwell Bishop Holland, took off from Mascot in a Moth plane on a mission. He flew to his father's home in Vaucluse, descended from 3,000 to 100 feet, and threw out sweets with a Father's Day message attached. The mission didn't quite go to plan – although the sweets landed without incident, they were seized by youngsters rather than the dads. And the well-meaning pilot copped a five-pound fine for flying without a civil licence!
Dads in Australia: Fact file
1 in 5 Australians are dads
4.6% of Australian dads are stay-at-home fathers
There are 156,000 single-parent dads
5. We're still celebrating, but dads are changing
Father's Day grows more popular every year, and the dads being spoilt these days are a little different compared with the dads back when Father's Day first gained popularity.
According to social researchers McCrindle, 2.2 million dads have kids under 18 years.
2. The average age of dads with a newborn is now 33 years, with the age rising steadily since the 1970s when the average age was 26 years.
3. Stay-at-home dads are (slowly) growing in number. In 1981, just 1.9 per cent of two-parent families had a stay-at-home dad. In 2016, that percentage was sitting at 4.6 per cent.
Dads want more time with their kids. Figures from the Working Parents Report show that 65.1 per cent of fathers not returning to work immediately after having a child are being judged negatively by society. Over four in five (83.2%) say they would have liked to stay home with their child longer before returning to work, and over two thirds (68.4%) wish they had held off on returning to work so they could spend more time with their child during the early years.
6. How we celebrate today
Cards, celebratory lunches and breakfasts in bed are standard gifts. But in the digital age, our search for the perfect present is often made online. Research shows many of us turn to Google in the weeks before Father's Day, with GPS navigation devices, soccer gear, hardware, outdoors supplies and car merchandise the most popular searches. And thanks to our position as the odd one out internationally, we can celebrate outdoors in the spring sunshine rather than shivering through a winter's day in June.
Armed with these Father's Day facts, you now have even more reason to appreciate the day we dedicate to dads. And as you celebrate with food or hand over a gift, don't forget to tell the dads in your life how you appreciate everything they do. We hope you liked the six interesting facts about Father's Day.

Written by Akanksha of Reprise, Sydney
https://trolltours.com.au/product/gift-certificate/?attribute_type-of-gift-voucher=Birthday&attribute_tour-name=The+North+Shore+Skimmer&attribute_the-hours-required-min-is-45-minutes=2+hours
https://trolltours.com.au/wp-content/uploads/2016/08/logo.png
0
0
Kat
https://trolltours.com.au/wp-content/uploads/2016/08/logo.png
Kat
2021-09-01 20:11:36
2021-09-01 20:12:45
Six interesting facts about Father's Day you may not know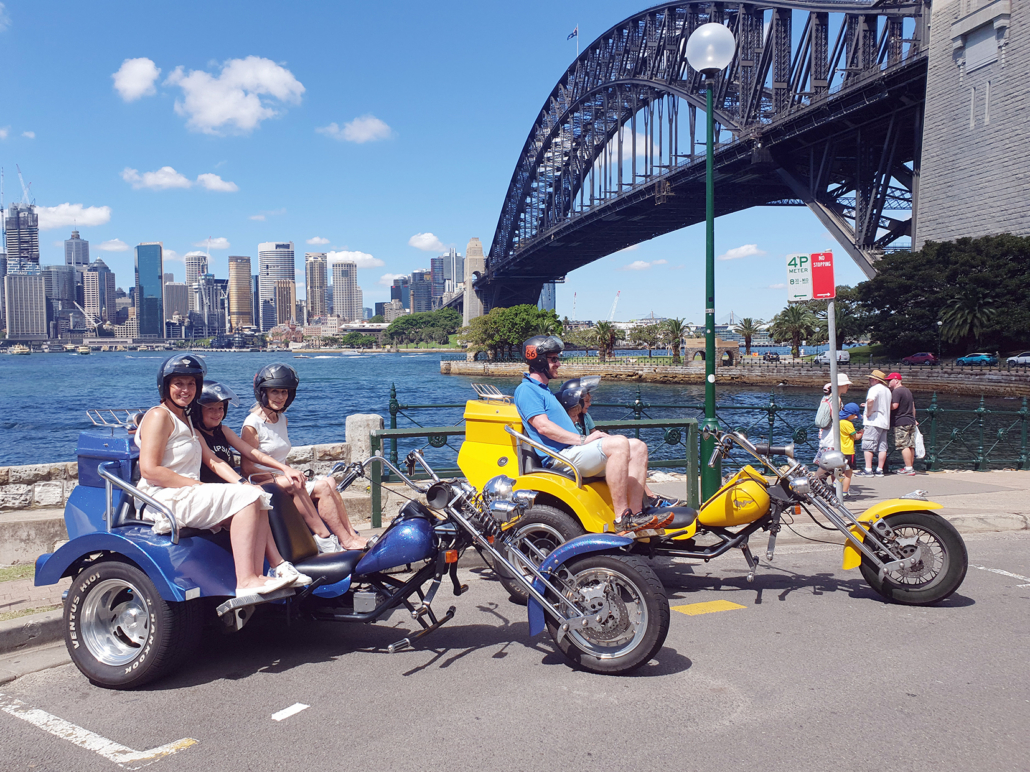 Ride over the best (and most famous) bridges in Sydney. The Three Bridges Tour takes one hour and you'll see parts of Sydney most tourists nor Sydneysiders see.
Our Harley and trike riders arrived at the pickup before the start time. We can pick up at hotels, railway stations, private homes. Anywhere where it is safe to stop. Once our riders meet you at the pick up the riders will ask you to scan our covid QR check in. Next, they will give instructions to you, the passenger(s), and kit you out with helmets and jackets before helping you onto the trike and/or Harley.
Firstly, you will ride over the Sydney Harbour Bridge. We always tell our passengers to look up and enjoy the unique view. The more than 6,000,000 rivets are so interesting and the arch is so iconic.
Kirribilli
Next, after riding across the Harbour Bridge, ride past Kirribilli House. Kirribilli House is the secondary official residence of the Prime Minister of Australia. After that, ride around the corner to Jeffrey Street Wharf. From here, the views across Sydney Harbour towards the Sydney Opera House and the CBD are magnificent. In addition, it also has an up-close view of the side and underneath of the bridge. A perfect place to stop for photos.
The Kirribilli Loop
Then ride under the north side of the bridge and continued on their tour. The underside of the northern end of the SHB – Sydney Harbour Bridge – is very interesting. The Kirribilli Loop was finished by riding past Luna Park and the North Sydney Olympic Pool.
Continuing on, ride through North Sydney and Crows Nest before joining River Road. It is a fun road to ride on. River Road leads to Burns Bay Road which, in turn, leads to another bridge but not one of the main three.
Fig Tree Bridge, Tarban Creek Bridge, Gladesville Bridge
The Fig Tree Bridge opened in 1963 and spans the Lane Cove River. After that bridge, they continued on and crossed the second of the bridges Tarban Creek Bridge. This spans Tarban Creek, likewise, it has nice views east to the Harbour Bridge. Then they got to bridge #2 of the main 3 Bridges, the Gladesville Bridge. It has wonderful views along Parramatta River towards the Harbour Bridge and the city.
This bridge is on the main arterial thoroughfare of Victoria Road. They travelled along for a short while before turning off into the inner west suburb of Drummoyne. Following the shoreline of Iron Cove, which is part of the Parramatta River, they saw some lovely water views. It is part of the 7 km long Bay Run. So, really you will ride over more than three bridges on the Three Bridges Tour. 😎
ANZAC Bridge
Our favourite bridge is the ANZAC Bridge. We think it is incredible, a work of art and design. It is main bridge #3. Similarly, it is also great to see without a roof over your head inhibiting the view.
Most noteworthy, the stay cable design concept development and final design for the new bridge were carried out by the Roads & Traffic Authority of NSW. Finally, the bridge was opened to traffic on 03 December 1995 as the Glebe Island Bridge.
The bridge was given its current name on Remembrance Day in 1998 to honour the memory of the soldiers of the Australian and New Zealand Army Corps (known as Anzacs) who served in World War I.
However, time was nearly up so our riders dropped our passengers back at their hotel, a great way to see parts of the city only the locals know about. All our passengers love Three Bridges Tour, it is something different and a fun experience. The passengers just relax and enjoy the feeling of freedom. For more info on this and our other tours see: https://trolltours.com.au/tours-and-prices/
https://trolltours.com.au/wp-content/uploads/2016/08/logo.png
0
0
Kat
https://trolltours.com.au/wp-content/uploads/2016/08/logo.png
Kat
2021-08-16 14:31:52
2021-08-16 14:35:50
The Three Bridges Tour – ride over the best bridges in Sydney!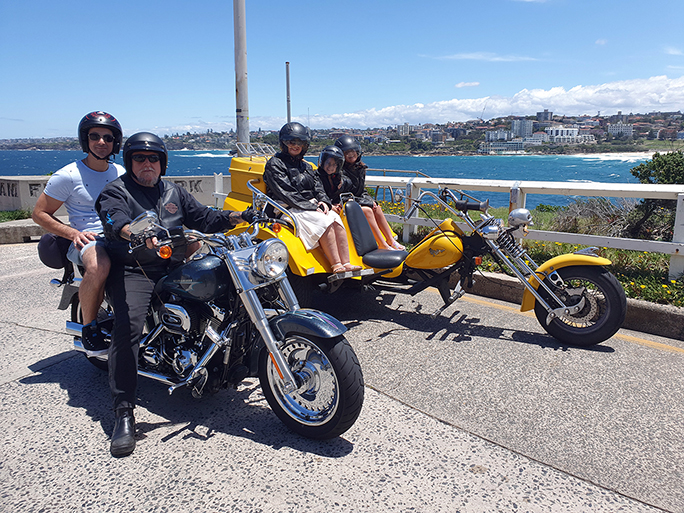 One of our most popular tours is the Eastern Sydney Panorama Tour. It goes for 1.5 hours through the eastern suburbs of Sydney. You can travel on the trike or Harley Davidson motorcycle to some of the most famous sights of Sydney and Eastern Sydney.
Mrs Macquaries Chair
We'll pick you up from a prearranged place and take you around Sydney Harbour. Past the Botanical Gardens which has Government house situated in it. Next, we ride past the Art Gallery of NSW to Mrs Macquaries Point. A fantastic view of the Sydney Opera House and Sydney Harbour Bridge is found here. Mrs Macquarie's Chair is an exposed sandstone rock cut into the shape of a bench, on a peninsula in Sydney Harbour. It was hand carved by convicts in 1810, for Elizabeth Macquarie, the wife of Major-General Lachlan Macquarie, Governor of New South Wales.
Harry's Cafe de Wheels
Then, travel through Woolloomooloo, past the famous Harry's Cafe De Wheels. Harry's Cafe de Wheels is an iconic pie cart located on Cowper Wharf Road in Woolloomooloo. It's near the Finger Wharf and Fleet Base East. They are best known for their dish "Tiger Pie", a type of Australian meat pie named after the original founder of Harry's.
Ride up to infamous Kings Cross, Colloquially known as The Cross, the area was once known for its music halls and grand theatres. It was rapidly transformed after World War II. By an influx of troops returning and visiting from the nearby Garden Island naval base. It became known as Sydney's night entertainment and red-light district; however, many nightclubs, bars and adult entertainment venues closed due to the Sydney lockout laws. Today, it is a mixed locality offering services such as a railway station, gyms, supermarkets and bakeries. There are many entertainment venues including bars, restaurants, nightclubs, brothels and strip clubs.
The Coca-Cola Billboard in Kings Cross
Kings Cross is also home to the huge Coca Cola sign. The Coca-Cola Billboard in Kings Cross, Sydney, usually referred to by Sydneysiders simply as "The Coca-Cola Sign" or "The Coke Sign". It was/is an advertising billboard erected in 1974 by the Coca-Cola Company. It is more often regarded as an iconic landmark than as an advertisement.
Bondi Beach
Further into the posh Eastern Suburbs and we drive past the lovely suburbs of Rushcutters Bay, Double Bay, Rose Bay and Vaucluse. Arriving at the world famous Bondi Beach is quite impressive. You will have a fantastic view from the back of the trike or Harley. We wander along the beach front where you will be momentarily as famous as the beach itself when all passersby can't help but look at you.
Oxford Street
If there is time we return to your drop off point via the very 'out there' Oxford Street, home of great fashion and jewellery designers. The western section is widely recognised as Sydney's main gay district.
This itinerary can be changed to suit your personal requirements. However, you'll find the time flies past. Sometimes the route is changed on the day, depending on the traffic. In conclusion, the Eastern Sydney Panorama Tour really is a good one which shows some beautiful parts of Sydney city.
https://trolltours.com.au/product/eastern-sydney-panorama-trike-ride/
https://trolltours.com.au/wp-content/uploads/2016/08/logo.png
0
0
Kat
https://trolltours.com.au/wp-content/uploads/2016/08/logo.png
Kat
2021-07-22 13:48:28
2021-07-22 13:48:48
Eastern Sydney Panorama Tour, Sydney