The Harley tour Blue Mountains is a great way to see the famous Blue Mountains. Whether on a trike or Harley, it's a wonderful area to explore on a motorcycle. The foothills are situated 50 kms west of Sydney CBD and it takes approximately 1 hour to ride to the base. Then it takes another hour to ride up the mountain to the main area of Katoomba. Here, in Katoomba is Echo Point, one of the best spots for viewing the area's most famous rock formation – the Three Sisters (see photo above right.)
Often we meet our passengers half way up the mountain or at Katoomba Railway Station. If time is limited, that way they get to see the best bits, just not the freeway. We recommend two hours to get a good tour of the area. The Blue Mountains is only a small part of an extensive mountainous area associated with the 3,700 km long Great Dividing Range.
Megalong Valley
Megalong Valley is simply magic. While the view from the Hydro Majestic Hotel at Medlow Bath is breathtaking, a drive down into the valley itself is an unforgettable experience. The natural beauty of the Megalong Valley allows any visitor to unwind. The Aboriginal word megalong means 'valley below the cliffs'. The fabulous Cox's River passes through the valley, and it is via this river in 1818, Thomas Jones was believed to be the first European visitor to the area. Thomas Jones ventured into the valley to explore its natural vegetation.
Echo Point
The Three Sisters is an iconic formation that you must see at least once in your lifetime. However, there are different versions of the Aboriginal story of the Three Sisters, but what you're bound to agree with is how truly spectacular it is. The imposing Three Sisters is best seen from Echo Point lookout, just outside the national park, on the edge of the plateau. These three weathered sandstone peaks, formed thousands of years ago through erosion, are set among the cliffs of the Jamison Valley. From the lookout, you'll be able to see the Ruined Castle and Mount Solitary.
Jamison Valley
The Jamison Valley makes up a part of the Coxs River system, a complex structure of canyons and valleys that sprawl out in NSW. The historic timeline of the Blue Mountains spans back 470 million years to be exact. The development of the region began when the entire land was immersed in seawater. With the earth's plates slowly moving to create the continents we know today. During this time, the large sediments settled on the seafloor. Slowly compressing together to form sandstone and shale underwater rocks. Once the sea levels lowered, the large rocks appeared; with thousands of years of erosion and volcano eruptions shaping these mountains. Soon life developed, covering the area in rich greenery and unique Australian animals. Creating what we know today, as the green Jamison Valley. https://bluemountainstoursydney.com.au/attractions/jamison-valley/
These are just a couple of the places we can show you in the Blue Mountains area, west of Sydney. There is so much to see there and it really is beautiful. In conclusion, contact us to book or to ask any questions you may have. The Harley tour Blue Mountains really is a great way to see the famous Blue Mountains and Three Sisters. The trike is just as fun.
https://trolltours.com.au/tours-and-prices/ The two scenic photos are courtesy of Tourism Australia.
https://trolltours.com.au/wp-content/uploads/2016/08/logo.png
0
0
Kat
https://trolltours.com.au/wp-content/uploads/2016/08/logo.png
Kat
2021-10-01 11:13:50
2021-10-01 11:24:19
Harley tour Blue Mountains
Sunset on Sydney Harbour can be the most beautiful of sights – and sites.

We cannot guarantee it looks like this if we take you on a tour around Sydney Harbour. However, it is one of the most beautiful harbours in the world, if not #1. So, you will love the view no matter what time of day we take you. Mornings, lunch time, mid afternoons are all fabulous times to see the harbour as well.
Troll Tours knows some great areas around Sydney Harbour. Many places that even Sydneysiders don't know about. Sydney Harbour is so beautiful it sells itself but, we know how to add value to your visit here.
Sydney Harbour is also called Port Jackson. It's an inlet of the Pacific, 19 km / 12 miles long with a total area of 55 square km / 21 square miles, which is one of the world's finest natural harbours. It has minimum and maximum depths of 30 feet (9 metres) and 155 feet at low water, and its irregular foreshores extend more than 150 miles, affording extensive docking facilities. Its principal wharves are near Sydney's business district. https://www.britannica.com/place/Port-Jackson
What's at the bottom of Sydney Harbour?
Large concrete blocks and steel poles from construction work
A variety of furniture items including tables and chairs
Dozens of shopping trolleys
Small pleasure boats that have broken free from moorings
Cars and motorbikes. They have also found what was thought to be
A brand new Toyota Landcruiser 4WD which was 50 metres from the wharf at White Bay which "…may have fallen off the back of a ship"
Possibly a Porsche or Audi sports car in 6.5m of water just a few metres from the edge of Pier One at Dawes Point, almost under the Harbour Bridge
It's interesting to think about what's under the water at sunset on Sydney Harbour!
https://trolltours.com.au/wp-content/uploads/2016/08/logo.png
0
0
Kat
https://trolltours.com.au/wp-content/uploads/2016/08/logo.png
Kat
2021-09-22 14:59:41
2021-09-22 15:00:16
Sunset on Sydney Harbour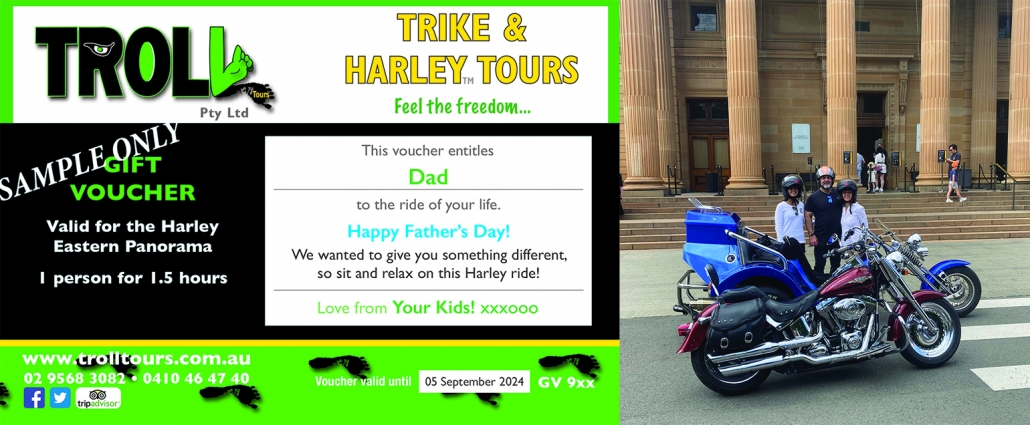 Six interesting facts about Father's Day you may not know. Father's Day is the perfect opportunity to remind the dads and father figures in our lives how much we care about them. But we haven't always had a special day devoted to dads. A Gift Voucher is a great present for Dad, he has 3 years to use it. Australia will have freedom to experience Sydney before then.
1. The first Father's Day was inspired by a single dad
Father's Day came about thanks to the daughter of a single dad called William Jackson Smart. A Civil War veteran from Washington in the United States, William's wife died during the birth of his daughter, Sonora Smart Dodd.
William raised Sonora and her five older siblings on his own. With Mother's Day celebrated each year, Sonora felt her Dad – and fathers everywhere – deserved a special day too. She campaigned for first Father's Day and the first one was held in her father's birth month, June, in 1910.
2. Father's Day initially received opposition in Australia
In the 1930s, the idea of a Father's Day started to take hold in Australia, with discussions cropping up each year after Mother's Day was celebrated in May.
Some didn't welcome the idea, though. In 1939, a Sydney newspaper published a piece about Father's Day, including comments from Reverend Rayward, superintendent of the Central Methodist Mission: "There is as yet no Father's Day. Commercial interests endeavour every year during September to initiate such a day, but it always falls flat. In view of the fact that the move is purely commercial, it deserves to do so."
3. Father's Day arrived in Australia in a different month
Mother's Day in Australia lines up with the rest of the world, in May. Father's Day; however, is celebrated here in September while dads in the UK, US and most other parts of the world celebrate it in June.
Most commentators suggest the date was chosen for commercial reasons and to fit around other dates on the Aussie calendar. However, way back in 1911 – only a year after the first Father's Day in the US – another Sydney newspaper reader suggested "seasonal" reasons: "September should be the month in which to hail him king, for, under the Southern Cross, it is in that month Dad's fancy lightly turns to thoughts of love." Now for the next (and last) three facts about six interesting facts about Father's Day.
4. Father's Day was well and truly alive in Australia in the 1940s
By the 1940s, Australia had embraced Father's Day and celebrated it on the first Sunday in September each year. Indeed, some had become a little too enthusiastic about showing dads how much they care.
On Father's Day in 1945, a discharged RAAF pilot, Maxwell Bishop Holland, took off from Mascot in a Moth plane on a mission. He flew to his father's home in Vaucluse, descended from 3,000 to 100 feet, and threw out sweets with a Father's Day message attached. The mission didn't quite go to plan – although the sweets landed without incident, they were seized by youngsters rather than the dads. And the well-meaning pilot copped a five-pound fine for flying without a civil licence!
Dads in Australia: Fact file
1 in 5 Australians are dads
4.6% of Australian dads are stay-at-home fathers
There are 156,000 single-parent dads
5. We're still celebrating, but dads are changing
Father's Day grows more popular every year, and the dads being spoilt these days are a little different compared with the dads back when Father's Day first gained popularity.
According to social researchers McCrindle, 2.2 million dads have kids under 18 years.
2. The average age of dads with a newborn is now 33 years, with the age rising steadily since the 1970s when the average age was 26 years.
3. Stay-at-home dads are (slowly) growing in number. In 1981, just 1.9 per cent of two-parent families had a stay-at-home dad. In 2016, that percentage was sitting at 4.6 per cent.
Dads want more time with their kids. Figures from the Working Parents Report show that 65.1 per cent of fathers not returning to work immediately after having a child are being judged negatively by society. Over four in five (83.2%) say they would have liked to stay home with their child longer before returning to work, and over two thirds (68.4%) wish they had held off on returning to work so they could spend more time with their child during the early years.
6. How we celebrate today
Cards, celebratory lunches and breakfasts in bed are standard gifts. But in the digital age, our search for the perfect present is often made online. Research shows many of us turn to Google in the weeks before Father's Day, with GPS navigation devices, soccer gear, hardware, outdoors supplies and car merchandise the most popular searches. And thanks to our position as the odd one out internationally, we can celebrate outdoors in the spring sunshine rather than shivering through a winter's day in June.
Armed with these Father's Day facts, you now have even more reason to appreciate the day we dedicate to dads. And as you celebrate with food or hand over a gift, don't forget to tell the dads in your life how you appreciate everything they do. We hope you liked the six interesting facts about Father's Day.

Written by Akanksha of Reprise, Sydney
https://trolltours.com.au/product/gift-certificate/?attribute_type-of-gift-voucher=Birthday&attribute_tour-name=The+North+Shore+Skimmer&attribute_the-hours-required-min-is-45-minutes=2+hours
https://trolltours.com.au/wp-content/uploads/2016/08/logo.png
0
0
Kat
https://trolltours.com.au/wp-content/uploads/2016/08/logo.png
Kat
2021-09-01 20:11:36
2021-09-01 20:12:45
Six interesting facts about Father's Day you may not know