How Can Better Road Signs Save Motorbike Riders?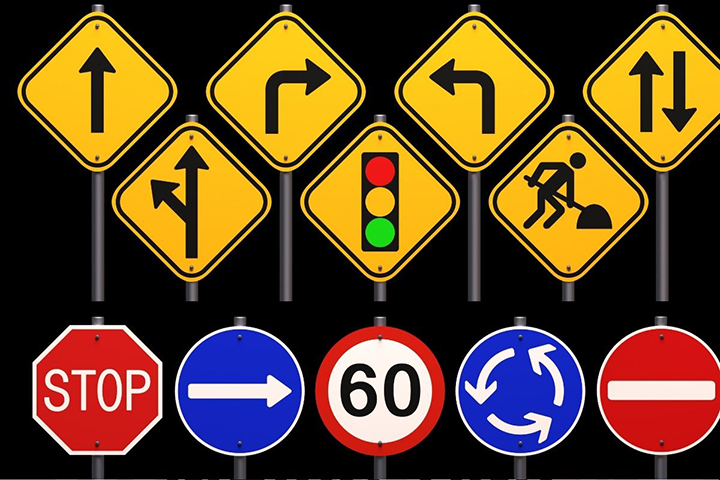 Vehicle transportation is a staple component of our society. When commuting, we see hundreds of cars and trucks on the road, including advertisements and outdoor digital signage. Sometimes it truly is a wonder how all the vehicles on the road can live in harmony. The credit for road safety goes for a range of components on the road like roading markings, signs, and signals. Additionally, the work done by governments deserves a shout out too. But safety tends to get overlooked for motorbike riders since they are relatively fewer in number. Motorbikes offer a lot less protection than their vehicular counterparts, which means they are more at risk of fatal accidents. It has been suggested that better road signs can save the lives of motorbike riders. But how can this be done?

Visible road signs

Driving is an activity that requires a driver's full attention and is dependent heavily on vision. Therefore, the only way to communicate information to drivers about road safety is through visual stimulation. Traditional road signs tend to be harder to see, especially since they get worn out with time. Studies have noted that improved road markings and signage have helped increase safety on the road for all road users. When brighter signs have been installed, it has been seen that crash numbers have fallen by almost half. Therefore, installing more modern road signs and even replacing older ones can have a huge impact and save the lives of motorbike riders.


Retroreflective signs

You could simply make older road signs from metal in the past, which did its job but was not super effective. Traffic signs have been revolutionized through technology like retroreflective signs in modern times. These signs work on the principle of reflectivity. What essentially happens is that the light from the headlights of a car or motorbike hits the sign and is reflected to the driver. This returned light makes the road sign appear brighter to the driver, ensuring that they will give them more attention. Therefore, motorbike drivers will be alerted to any road safety alerts, and cars will also be careful. Overall, this results in more safety for motorbike riders.
Active Symbols

A study conducted by researchers found that the symbols on traditional road signs are too passive. They found that drivers were more likely to take action accordingly if the symbols depicted more motion and dynamism. This is because drivers do not have much time to read something, so it will catch their attention if they see a depiction of movement. These symbols can even show a greater risk depiction if designed correctly, resulting in drivers driving more safely. For example, a sign showing falling rocks can show rocks falling closer to the car, showing a genuine danger to their safety. This may prompt drivers to be more alert for any collapses, increasing road safety for them and motorbike riders.
Better Sign Warnings

Just as symbols on signs can influence drivers, so can the warnings written on them. Typically when roads allow cars, motorbikes, and bicycles to share a lane, the signs will read 'Share the road.' But this warning is very ambitious, as most drivers may not realize that they are talking about bikes and may think they are trucks. In a quick survey conducted by researchers, they found that more people understood the sign that was about cyclists when it said, 'Bicycles may use the full lane.' We can apply this same principle for motorbikes too. Such an implementation can alert drivers to the presence of motorbikes that they can sometimes forget since cars are usually a majority of the road. This can help increase safety for motorbike riders.
https://trolltours.com.au/wp-content/uploads/2016/08/logo.png
0
0
Kat
https://trolltours.com.au/wp-content/uploads/2016/08/logo.png
Kat
2022-06-03 22:31:39
2022-06-03 22:48:20
Better road signs save motorbike riders
The ultimate Harley Tour in Sydney and it's coastal areas!
If you didn't get the chance to ride around Sydney on that comfy Harley seat yet, then you're missing out on half the adventure of your life. Either it's the massive Sydney Harbour Bridge or the famous Sydney Opera House, stop dreaming about it any longer, grab a soft helmet, tag a cotton towel to your trouser belt and get ready to thunder through the wind on the scenic roads of Sydney. The first question that comes to your mind is where to get a Harley? or which places to visit? No problem, local tourist guides & travel services have that covered for you, but you can't travel every place in Sydney in one ride. Different tours take you to different places, so you will need to study the area yourself before choosing your rider service and the places to visit. This article will point out the best Harley pathways, so your options are both selective and enjoyable.
Pick up and drop off:
Service providers offering a customisable tour or one-way site visits will pick you up from anywhere in the city and drop you off at your desired destination on that shining chrome-trimmed motorcycle. Following are the best options for short visits from the city:
• Tourist attractions within the city in an hour
• A one-hour evening ride to witness the city lights
• Watson's bay in approximately one and a half hour
• Manly beach in 1.5 hours
• Coastal run along Bondi and southern beaches within two hours
• Northern beaches or West Head in two to three hours
• A four-hour ride to the central coast via the old pacific highway
All-day tours:
• Blue Mountains
Usually, The Blue Mountains tour will take you to Katoomba via the Bells Line of road. From Katoomba, you'll ride to the Three Sisters Look-out and alongside Cliff Drive. Over there, you will have your lunch and then cruise back to the city across the mountain via the Great Western Highway and the motorway. This 300km scenic round trip on some of the best roads will give your eyes 7 hours of non-stop pleasure.

• Hunter Valley
The nine-hour tour of Hunter Valley goes up to Putty Road, which will turn us to Broke and then to Pokolbin. After lunch, you will get to visit many of the beautiful vineyards. The area before you are cruising home down the Expressway and then onto the favourite road of bikers, Old Pacific Highway, to end your 380km round trip.

• Central Coast
The Central Coast tour will also take you via the Old Pacific Highway, similar to the first two. Your first break for coffee will be at Mt White before riding into Gosford. Then you will continue riding towards Terrigal, where you will have the famous dishes of the Hoggs Breath Café for lunch while enjoying the beach view from the balcony. After you are done with lunch, you will follow the coast up to Toukley and then join up with the Expressway for home. This will be a five-hour, 250km round trip.

• South Coast
The South Coast or the Southern Highlands tour is the hot favourite and honestly the best. Moving south, you will ride through The National Park to the magnificent views from Stanwell Tops and then to Stanwell Park, where you will stop for coffee. Then you will follow the magnificent Illawarra coastline before heading up towards Robertson, which is located at the top of Macquarie Pass, where you can capture spectacular views of the coast at different vantage points. Then on the way back, you will ride to Picton via the Old Hume Highway and then home. It is a 280km round trip but full of entertainment, and it will take six and a half hours to complete.
The fantasy Harley ride:
All of the tours mentioned above will cost differently, check out our Tours and Prices page https://trolltours.com.au/tours-and-prices/. Live the dream of enjoying the beautiful colours of Sydney on your ultimate Harley tour. Feel the Freedom!
https://trolltours.com.au/wp-content/uploads/2016/08/logo.png
0
0
Kat
https://trolltours.com.au/wp-content/uploads/2016/08/logo.png
Kat
2021-11-09 14:10:49
2021-11-09 14:15:12
The ultimate Harley Tour in Sydney

The Harley tour Blue Mountains is a great way to see the famous Blue Mountains. Whether on a trike or Harley, it's a wonderful area to explore on a motorcycle. The foothills are situated 50 kms west of Sydney CBD and it takes approximately 1 hour to ride to the base. Then it takes another hour to ride up the mountain to the main area of Katoomba. Here, in Katoomba is Echo Point, one of the best spots for viewing the area's most famous rock formation – the Three Sisters (see photo above right.)
Often we meet our passengers half way up the mountain or at Katoomba Railway Station. If time is limited, that way they get to see the best bits, just not the freeway. We recommend two hours to get a good tour of the area. The Blue Mountains is only a small part of an extensive mountainous area associated with the 3,700 km long Great Dividing Range.
Megalong Valley
Megalong Valley is simply magic. While the view from the Hydro Majestic Hotel at Medlow Bath is breathtaking, a drive down into the valley itself is an unforgettable experience. The natural beauty of the Megalong Valley allows any visitor to unwind. The Aboriginal word megalong means 'valley below the cliffs'. The fabulous Cox's River passes through the valley, and it is via this river in 1818, Thomas Jones was believed to be the first European visitor to the area. Thomas Jones ventured into the valley to explore its natural vegetation.
Echo Point
The Three Sisters is an iconic formation that you must see at least once in your lifetime. However, there are different versions of the Aboriginal story of the Three Sisters, but what you're bound to agree with is how truly spectacular it is. The imposing Three Sisters is best seen from Echo Point lookout, just outside the national park, on the edge of the plateau. These three weathered sandstone peaks, formed thousands of years ago through erosion, are set among the cliffs of the Jamison Valley. From the lookout, you'll be able to see the Ruined Castle and Mount Solitary.
Jamison Valley
The Jamison Valley makes up a part of the Coxs River system, a complex structure of canyons and valleys that sprawl out in NSW. The historic timeline of the Blue Mountains spans back 470 million years to be exact. The development of the region began when the entire land was immersed in seawater. With the earth's plates slowly moving to create the continents we know today. During this time, the large sediments settled on the seafloor. Slowly compressing together to form sandstone and shale underwater rocks. Once the sea levels lowered, the large rocks appeared; with thousands of years of erosion and volcano eruptions shaping these mountains. Soon life developed, covering the area in rich greenery and unique Australian animals. Creating what we know today, as the green Jamison Valley. https://bluemountainstoursydney.com.au/attractions/jamison-valley/
These are just a couple of the places we can show you in the Blue Mountains area, west of Sydney. There is so much to see there and it really is beautiful. In conclusion, contact us to book or to ask any questions you may have. The Harley tour Blue Mountains really is a great way to see the famous Blue Mountains and Three Sisters. The trike is just as fun.
https://trolltours.com.au/tours-and-prices/ The two scenic photos are courtesy of Tourism Australia.
https://trolltours.com.au/wp-content/uploads/2016/08/logo.png
0
0
Kat
https://trolltours.com.au/wp-content/uploads/2016/08/logo.png
Kat
2021-10-01 11:13:50
2021-10-01 11:24:19
Harley tour Blue Mountains