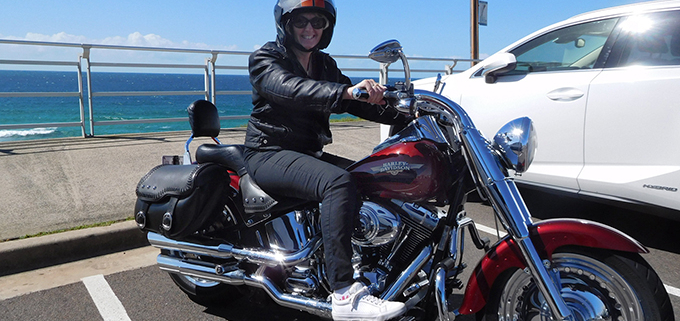 Troll Tours Pty Ltd
Kaelie has always wanted to go on the back of a Harley. So Steve, her husband, organised a birthday surprise Harley ride. After all you only turn 50 once! We were to keep the drop off point a surprise as well. She had no idea where her party was going to be held. We did remind Steve that Kaelie has to wear a helmet. If she has spent hours at the hairdresser she may not want to put a helmet on.
Steve said it was a dress up party and Kaelie was dressing up as Wonder Woman, wearing a wig. So the helmet was not a problem. Sounds like a great party!
However, on the Sunday night it was pouring down with rain. Both Kaelie and us decided to postpone to the following day. It was a good call. Monday was a beautiful sunny warm day.
Cronulla Beach
Our Harley rider Phil picked her up from her home at Bexley. She didn't care where she went, she just wanted to ride. Phil drove her to Cronulla Beach. It's a nice ride following Rocky Point Road over the Captain Cook Bridge. Then the road turns into Tarens Point Road. Turn left somewhere and you'd hit either Greenhills Beach, North Cronulla Beach or South Cronulla Beach. So far, the birthday surprise Harley ride was one of the best presents ever!
They rode past some of the scenic areas and stopped for a couple of photos. However, half of the hour was already up so Phil turned around and they rode back to Kaelie's place.
In conclusion, the birthday surprise Harley ride was a huge success (as was the party) 😍. Steve wrote:
Hi Katrina.
Thanks for the photos. Kaelie had a great time with Phil. We are still recovering from the party which is a good sign. Yes ok to post on social media. I will also do a review ASAP.
Cheers Steve

https://trolltours.com.au/product/design-your-own-ride/
https://en.wikipedia.org/wiki/Cronulla_Beach
https://trolltours.com.au/wp-content/uploads/2021/03/birthday-surprise-Harley-ride-Kae1.jpg
510
680
Kat
https://trolltours.com.au/wp-content/uploads/2016/08/logo.png
Kat
2021-03-16 11:06:19
2021-03-16 11:06:43
birthday surprise Harley ride – Kaelie 15.03.21