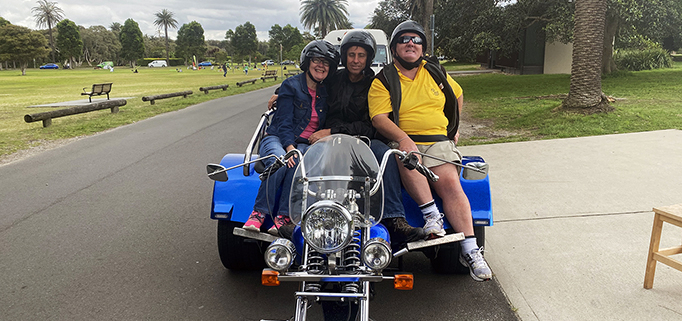 Troll Tours
Twice a year we organise the mini trike rides for the 3 bridges Community. The 3 Bridges Community is a charity which enhances the health and wellbeing of disadvantaged people. That's where we come in. A part of enhancing their clients wellbeing is organising some fun experiences for them. The passengers absolutely love being on the trike, they really do 'Feel the Freedom'. It's a change of routine where they don't need to think about life for a while.
Centennial Park
The last few years we have met at Centennial Park. 3 bridges Community brings their people in a bus, our rider meets them at a prearranged place in the park. It's a big park so it makes it easier to know where to meet.
Our trike rider Steve met 3 bridges Community staff and the passengers. The staff had contacted the rangers at Centennial Park so they knew what was going on.
For 3 hours, Steve took the passengers on mini rides around Centennial Park. The passengers didn't want the mini trike rides to end, they were having so much fun. In conclusion, we love watching their smiles light up their faces.
https://trolltours.com.au/product/design-your-own-ride/
Originally a swamp and then set aside as land for the water source for Sydney, Centennial Park was reconstructed as a public park and opened in 1888. Sir Henry Parkes' vision was to create a 'People's Park' in which the citizens of Sydney could 'take in the air' away from the Sydney town centre.
While the first set of Parklands' regulations in 1889 included: 'No person shall walk on the grass…' and 'No person shall engage in any game, or train for any race…' the Parklands have come a long way to becoming one of the most popularly visited and vibrant green spaces in Australia. Centennial Park is a living park, it has lots of things to do and see. Or just go for a picnic or bbq. Or do a trike tour!
https://www.centennialparklands.com.au/whatson
https://trolltours.com.au/wp-content/uploads/2020/11/Harley-3bridges-community-trike-tours-3bri1.jpg
512
682
Kat
https://trolltours.com.au/wp-content/uploads/2016/08/logo.png
Kat
2020-11-12 13:38:38
2020-11-12 13:39:08
Mini trike rides – 3 Bridges Community 09.11.20