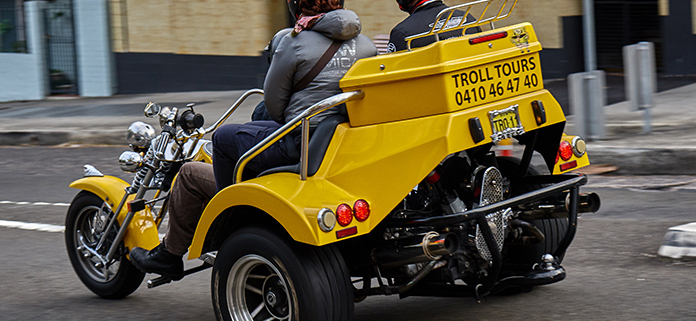 Troll Tours
Our passengers are from country NSW and in Sydney for a holiday. As usual, most of our passengers want some fun and to do something different. These passengers were the same. We were happy to organise the Harbour Bridge trike tours for them.
famous Coca Cola sign
Craig, our trike rider, picked them up from their hotel in the city. Firstly, they rode down the wide William Street to the huge and famous Coca Cola sign. This led them to the infamous Kings Cross, which was quite raunchy back in its day. Today, it is still worth a drive through because you can see some interesting people.
From Kings Cross, they rode through Potts Point and into Woolloomooloo. This road leads past the iconic Harry's Cafe De Wheels and also, the rejuvenated Finger Wharf. Even after all these sights, the Harbour Bridge trike tours continued.
Mrs Macquarie's Point
Next, the rode past the Art Gallery of NSW to Mrs Macquarie's Point. Home of Mrs Maquarie's Chair. They stopped for photos and a look at the beautiful view. After that, it was back through the city and over the iconic Sydney Harbour Bridge. We always tell our passengers to look up and enjoy the unique view. The more than 6,000,000 rivets are so interesting and the arch is so iconic.
After that, they rode around the corner to Jeffrey Street Wharf. From here, the views across Sydney Harbour towards the Sydney Opera House and the CBD are magnificent. In addition, it also has an up-close view of the side and underneath of the bridge.
The Kirribilli Loop
They rode under the north side of the bridge and continued on their tour. The underside of the northern end of the SHB – Sydney Harbour Bridge – is very interesting.
The Kirribilli Loop was finished by riding past Luna Park and the North Sydney Olympic Pool.
Next, they rode up to Neutral Bay before turning around and riding back over the bridge. However, time was nearly up so Craig dropped them back at their hotel. In conclusion, the Harbour Bridge trike tours was a memorable success.
https://trolltours.com.au/product/harbour-bridge-ride/
https://www.sydney.com/destinations/sydney/sydney-city/city-centre/attractions/mrs-macquaries-chair-sydney
https://trolltours.com.au/wp-content/uploads/2020/07/Harbour-Bridge-trike-tours-Cou1.jpg
464
696
Kat
https://trolltours.com.au/wp-content/uploads/2016/08/logo.png
Kat
2020-07-04 16:25:33
2020-07-04 16:28:19
Harbour Bridge trike tours – Countrysiders 28.06.20