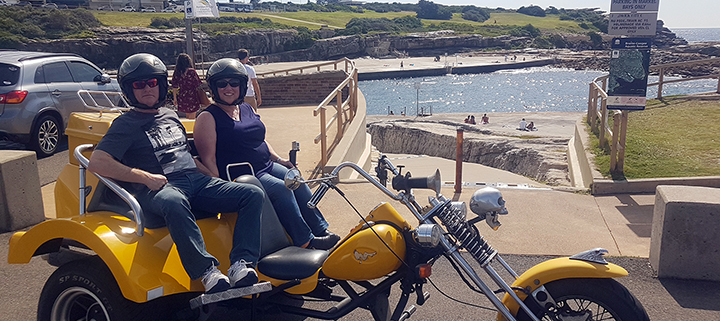 Troll Tours
On board a cruise from New Zealand, our passengers wanted to make the most of the short time they had in Sydney. So, they chose the City Viewer trike tour and extended it so they could see even more of our beautiful city. Their cruise ship docked at the Overseas Passenger Terminal, Circular Quay. We arranged a pick up point just a short walk from there.
Craig, on our yellow trike, picked them up from Circular Quay.
Mrs Macquarie's Point
Firstly, it was through the city to Mrs Macquarie's Point. The view from here looking westward, is beautiful. Most noteworthy, you'll see the Opera House and Harbour Bridge from a different and interesting perspective.
Next, it was onto Oxford Street, home of Sydney's Mardi Gras Parade. Then, it was into the eastern suburbs, though the lovely Centennial Park and onto the eastern beaches of Clovelly, Bronte, Tamarama, and Bondi.
Bondi Beach
After that, they stopped at the famous Bondi Beach. When in Sydney it is one of the places you should visit. The beach is seriously nice (but not our favourite) and we usually stop near the lifeguard station, made famous by the TV series "Bondi Rescue". Bondi Beach is one of the most visited tourist sites in Australia. Our passengers could hardly believe they were actually doing the City Viewer trike tour, it was so much fun.
posh eastern suburbs
Continuing on, Craig rode back down New South Head Road and back along the posh eastern suburbs of the inner harbour. It is always a nice view through Vaucluse, Rose Bay, Double Bay and Rushcutters Bay because it follows the Sydney Harbour coastline.
Kings Cross, and the huge Coca Cola sign
This leads to the infamous Kings Cross, home of the famous and huge Coca Cola sign. It is also home to nightclubs and ladies of the night though it is not nearly as raunchy as it was in the 1970s (apparently).
After that, they rode down the hill into Woolloomooloo. This means they rode past the interesting Finger Wharf and the iconic Harry's Cafe De Wheels. Then it was through the city and over the famous Sydney Harbour Bridge. The view of the arches is fantastic without a metal roof over your head. More than 6,000,000 rivets were used to assemble the various plates on the bridge.
Kirribilli
After riding off the Harbour Bridge, they rode past Admiralty House which is the Sydney official residence of the Governor-General of Australia. After that they rode past the Prime Ministers mansion – Kirribilli House. It is the official Sydney residence of the Prime Minister of Australia.
Continuing around the corner they arrived at Jeffrey Street Wharf. From here, the views across Sydney Harbour towards the Sydney Opera House and the CBD are magnificent. In addition, it also has an up-close view of the side and underneath of the bridge. They also stopped for photos here.
However, time was almost up – 2 hours does go quickly – so Craig rode back over the Harbour Bridge before returning our passengers to Circular Quay. In conclusion, the City Viewer trike tour extended was a huge success. Brenda + Clynton saw so much more of the Sydney sights than most of the other passengers on the cruise ship, and, they did it the fun way!
https://trolltours.com.au/product/the-city-viewer/
https://trolltours.com.au/wp-content/uploads/2020/03/Harley-City-Viewer-trike-tour-BreCly1.jpg
540
720
Kat
https://trolltours.com.au/wp-content/uploads/2016/08/logo.png
Kat
2020-03-05 14:23:08
2020-03-05 14:23:51
Brenda + Clynton 02.03.10 – City Viewer trike tour