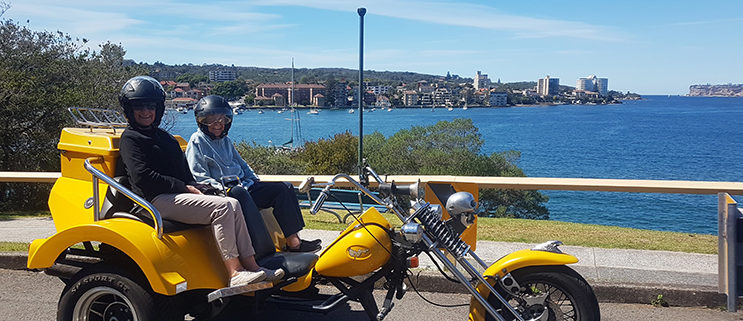 The 80th birthday tour surprise was organised by Jan's granddaughter. Firstly, Gemma bought a Gift Voucher from us. Secondly, she gave the Gift Voucher to her Grandma so the ride could be organised at a date and time which suited.
Northern Beaches
The date and time was duly sorted so Craig picked up Jan and Margaret (her daughter) up at Dee Why, from their home on the Northern Beaches. So they rode firstly past Dee Why Beach to Curl Curl. Both are such beautiful beaches. After a short but scenic and fun ride, they arrived at Freshwater Headland.
Queenscliff to Manly
From here, there are beautiful views across the Tasman Sea, part of the South Pacific Ocean. Continuing on, they ride through Queenscliff to Manly and Manly Beach.
Tania Park, part of Dobroyd Head
Further along the ride, they stopped at Tania Park, part of Dobroyd Head. The views are fantastic through "The Heads". You will see both North and South Heads and the ocean in between and far beyond.
However, time was up so Craig rode them both back to Dee Why. In conclusion, the 80th birthday tour surprise was a huge success.
https://trolltours.com.au/product/design-your-own-ride/
Freshwater Headland is a beautiful park on a headland overlooking Freshwater Beach and out to sea. The beautiful views are south towards Manly and north towards Curl Curl and Dee Why Beaches. There is a circular viewing area with a low stonewall on which to sit and take in the views.
This is also a good vantage point during whale watching season. Interestingly, there is also a statue of Duke Kahanamoku, the man who brought surfboard riding to Australia.
We find this very interesting, the reasons for Dee Why's name remain unclear. The earliest reference to it is a pencil note in surveyor James Meehan's field book, "Wednesday, 27th Sept, 1815 Dy Beach – Marked a Honey Suckle Tree near the Beach". What it meant to him is not clear, but various claims have been put forward, including:
The letters DY were simply a marker that Meehan used to mark many other places on his map.
The name came from the local Aboriginal language that Meehan used to name many of the locations that he surveyed.
The suburb was named after Leibniz's notation for the derivative in differential calculus, dy/dx.
From 1840 the name was recorded as one word, 'Deewhy'. The term 'Dee Why' was also used to name 'Dee Why Heights' or Highlands, known as Narraweena since 1951, and 'Dee Why West', the name of which was changed to Cromer in 1969. https://en.wikipedia.org/wiki/Dee_Why
https://trolltours.com.au/wp-content/uploads/2019/11/Harley-80th-birthday-trike-tour-surprise-JanMar1.jpg
557
743
Kat
https://trolltours.com.au/wp-content/uploads/2016/08/logo.png
Kat
2019-11-08 22:10:14
2019-11-08 22:10:39
Jan + Margaret 27.10.19 – 80th birthday tour surprise