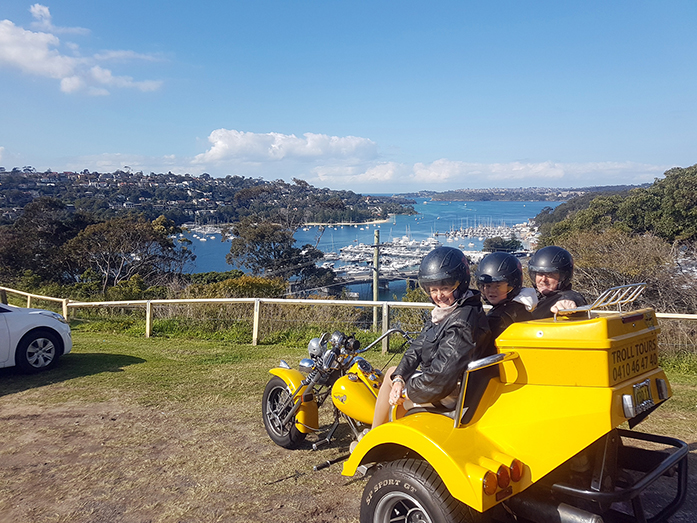 Michelle organised the Birthday celebrations trike tour for her family. Her son turned 13, her Dad turned 70 and her mother-in-law turned 60. She organised the ride as a surprise and the three passengers were very surprised but very happy!
The parents are visiting Sydney from South Africa, here to see family. They have been to Sydney before so Michelle thought the trike was a good way to experience more. However, they hadn't seen the northern beaches before so we showed them around the Peninsula.
Craig picked them up from their hotel in the city. Firstly they rode over the Sydney Harbour Bridge. It is a view and an experience we never tire of. However, make sure you look up to see the arches in all their glory. They are wonderful to look at without the roof of a car blocking the view.
First stop was Jeffrey Street Wharf. Of course they had to stop for photos and to admire the gorgeous view. It is a spectacular view across Sydney Harbour towards the Opera House and the CBD. There is also an interesting perspective to the Harbour Bridge.
The Kirribilli Loop
They continued on, doing what we call "The Kirribilli Loop". This takes us under the north end of the bridge. Pass by the entrance to Luna Park and the North Sydney Olympic Pool.
After that they rode through the northern suburbs of Neutral Bay and Mosman. Continuing down Military road, they rode past the lovely and well known Balmoral Beach. People from all over Sydney come here for a swim and a bite to eat.
Middle Harbour
Next, they rode over the Spit Bridge with it's lovely views of Middle Harbour. Up into Seaforth for a beautiful view of Middle Harbour. After that they rode to Tania Park, part of Dobroyd Head. Another view we never tire of – the fabulous Sydney Heads – both north and south!
Palm Beach and Pittwater
After that, they continued up through the northern beaches peninsula and past some of the beautiful beaches. In addition, they got to see Palm Beach, of Home and Away fame, is a beautiful beach we admit. Similarly, Whale Beach next door is stunning. Craig showed the passengers all around the area including the stunning Pittwater. It is part of Ku-ring-gai Chase National Park.
However, after a few photo stops and a walk around parts of the area, the 3 hours was up. It sure goes fast when you are having fun!
Craig dropped them off at Manly where all the family was meeting up. Manly is a good place to meet up, for instance, there is a large range of restaurants in Manly to choose from. In conclusion, the birthday celebrations trike tour was a huge success.
https://trolltours.com.au/product/the-beach-beauty/
Michelle wrote:
Hi Katrina,
They had an amazing time and my apologies for not writing sooner to thank you. Craig was outstanding. Yes of course feel free to add to social media.
I will do the reviews for you over the weekend. If I can work out how to tag you on Facebook in our photos I will do that too.
Kind regards,
Michelle
https://trolltours.com.au/wp-content/uploads/2019/08/Harley-Birthday-celebrations-trike-tour-AlJoOl1.jpg
523
697
Kat
https://trolltours.com.au/wp-content/uploads/2016/08/logo.png
Kat
2019-08-10 12:21:54
2019-08-11 13:12:56
Alan, Joy + Oliver 04.08.19 – birthday celebrations trike tour