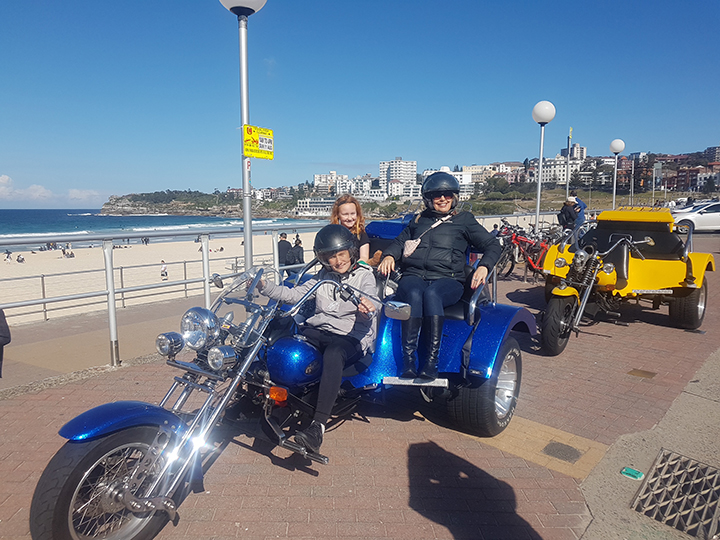 Our passengers are a family from the ACT (Canberra). They are in Sydney for the school holidays and the parents wanted to give their kids a fun surprise. So they organised the trike tour Bondi Beach. Boy it was fun!
Craig and Steve picked the passengers up from their hotel. They did the 1.5 hour Eastern Panorama. Because they were picked up from the North Sydney area, they didn't need to stop at Kirribilli for a look at the view. They had already walked around that area.
Sydney Harbour Bridge
So firstly, they rode over the Sydney Harbour Bridge. It is wonderful to view the famous bridge and its arches without a metal roof blocking your view. Next, they rode to Mrs Macquarie's Point where the view is fantastic.
Mrs Macquarie's Point
The view looks west over Sydney Harbour to the Sydney Opera House and the bridge. Mrs Macquarie's Chair is also in the vicinity but you will need to walk to see it – if there is time.
The infamous Kings Cross
Continuing on, they rode through Woolloomooloo and past the iconic Harry's Cafe De Wheels. After that, they rode up the hill into the infamous Kings Cross. It's not as 'red-light' as it used to be but still definitely interesting and worth a look.
Similarly, they kept riding through well known areas – the Eastern Suburbs. These suburbs are so close to the city and the harbour. They are expensive and off the main street, there is some beautiful architecture.
Bondi Beach
Most importantly, they ended up at Bondi Beach. This is the most famous beach in Sydney and probably the whole of Australia. The trikes stopped there so everyone could stretch their legs and admire the view.
However, time was nearly up – it goes so fast when you are having fun! Our trike riders dropped the passengers at their drop off place. They could continue to explore Sydney.
In conclusion, the trike tour Bondi Beach was a huge success. The kids received a great surprise! It will be an experience to remember forever. An experience that they will show off about at school!
https://trolltours.com.au/product/eastern-sydney-panorama-trike-ride/
https://trolltours.com.au/wp-content/uploads/2019/07/Harley-trike-tour-Bondi-Beach-Simms1.jpg
540
720
Kat
https://trolltours.com.au/wp-content/uploads/2016/08/logo.png
Kat
2019-07-29 21:55:17
2019-07-29 21:56:35
Simms Family 27.07.19 – trike tour Bondi Beach