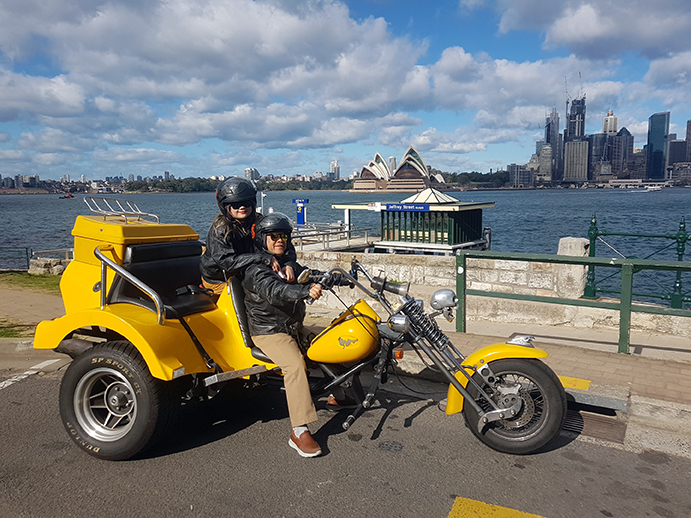 Susan organised the surprise trike ride Sydney for Zamry. We love surprises and are great at organising them! Craig picked Susan and Zamry up from their hotel in the city. They did one of our most popular tours – The Harbour Bridge Ride.
The Rocks
Firstly, they rode down to the Rocks and under the south end of the Sydney Harbour Bridge. They stopped for photos there, it has a great view north to Luna Park. The view also looks east and west along Sydney Harbour.
The Sydney Harbour Bridge
After that, they continued on though the Rocks then up and across the Sydney Harbour Bridge. Next, they rode through North Sydney and down to Jeffrey Street Wharf. Similarly, they stopped once more for some photos.
Kirribilli Loop
The next interesting part of the ride was the Kirribilli Loop. It travels past Jeffrey Street Wharf and behind it is a wonderful view across Sydney Harbour to the Sydney Opera House. Next, they rode under the northern section of the Sydney Harbour Bridge so they could look up and see the underneath.
After that, they rode back across the Bridge onto the final destination being the Sydney Tower Eye. Therefore, they could continue exploring Sydney.
Testimonial
In conclusion, Susan wrote to us: "Thanks so much for the great photos and excellent service. We had so much fun. Also, Big thanks to Craig for being such a nice and friendly person. Do send our regards to him. Thank you so much!"

Most importantly, the surprise trike ride Sydney was a huge success.

https://trolltours.com.au/product/harbour-bridge-ride/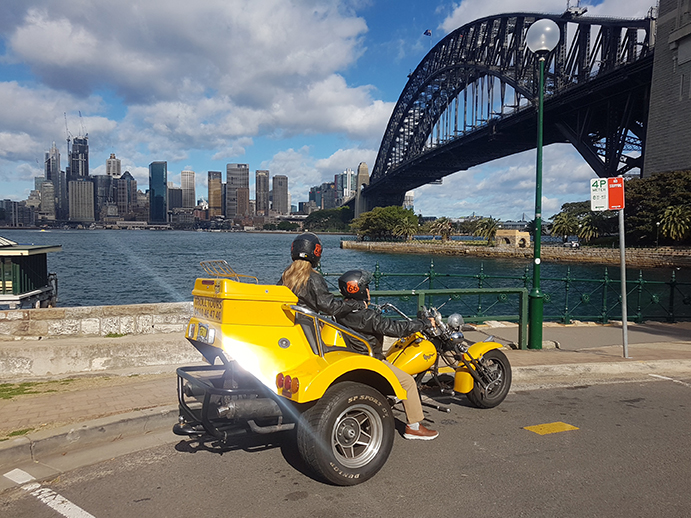 Kirribilli is one of Australia's older suburbs, with the first land grants in the area being granted by the colonial government during the 1790s. A scattering of Georgian and Gothic-revival houses and mansions were built in the 1830s, '40s and '50s. Most of these have since been razed. 😢
https://trolltours.com.au/wp-content/uploads/2019/07/Harley-surprise-trike-ride-Sydney-SusZam1.jpg
518
691
Kat
https://trolltours.com.au/wp-content/uploads/2016/08/logo.png
Kat
2019-07-16 18:06:45
2019-07-16 18:07:46
Susan + Zamry 15.07.19 – surprise trike ride Sydney