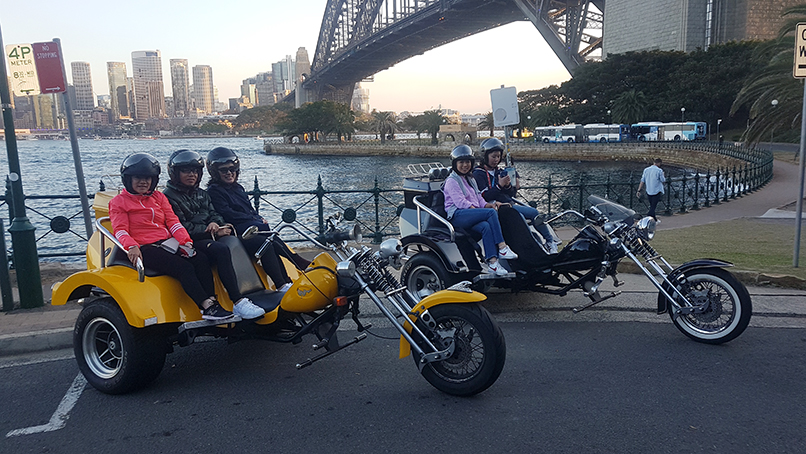 A trike tour of Sydney was organised by our client, a company. They had visitors come from Asia to Sydney, to see their place. Our client thought it would be a nice gesture for them to do something fun. Also, it was a great way to see the main sights of Sydney. It sure was.
Sydney Harbour Bridge
Our two trike riders, Craig and Syl, picked the group up from their hotel at Pier One, the Rocks. Firstly, they rode across the iconic Sydney Harbour Bridge. Make sure you look upwards while riding across the bridge, it has a different perspective to it when there is no metal roof blocking your view!
They stopped near Jeffrey Street Wharf, Kirribilli. Craig took some photos of them on the trikes – great memories. The passengers then had a good look across Sydney Harbour to the Sydney Opera House and the CBD. It is such a wonderful view, we never get tired of it.
Bondi Beach
After that, they rode back across the bridge to Bondi Beach. This took them through the city and some of the Eastern Suburbs of Sydney. Bondi Beach is one of the most famous places in Sydney. The trike riders stopped there so the passengers could have a good look and get some photos taken.
Everyone says the trike tour of Sydney is a great experience, a great ride to do. Moreover, they now have wonderful memories of Sydney. In other words, do it! Do a trike (or Harley) ride, you won't regret it.
https://trolltours.com.au/product/eastern-sydney-panorama-trike-ride/
Bondi Beach information
Bondi Beach is about 1 kilometre (0.6 mi) long. Surf Life Saving Australia gave different hazard ratings to areas of Bondi Beach in 2004. While the northern end has been rated a gentle 4 (with 10 as the most hazardous), the southern side is rated as a 7 due to a famous rip current known as the "Backpackers' Rip".
Tourists aren't willing to walk the length of the beach to safer swimming. Part of the problem is the proximity to the bus stop – it is near the south end of Bondi Beach. This causes many tourists to get caught in a dangerous situation. Many backpackers and tourists do not realise that the flat, smooth water is a rip, and quite dangerous. The south end of the beach is generally reserved for surfboard riding.

https://trolltours.com.au/wp-content/uploads/2019/05/trike-tour-of-Sydney-AsiTra1.jpg
454
806
Kat
https://trolltours.com.au/wp-content/uploads/2016/08/logo.png
Kat
2019-05-24 21:09:59
2019-05-24 21:10:36
Asian Group 23.05.19 – trike tour of Sydney