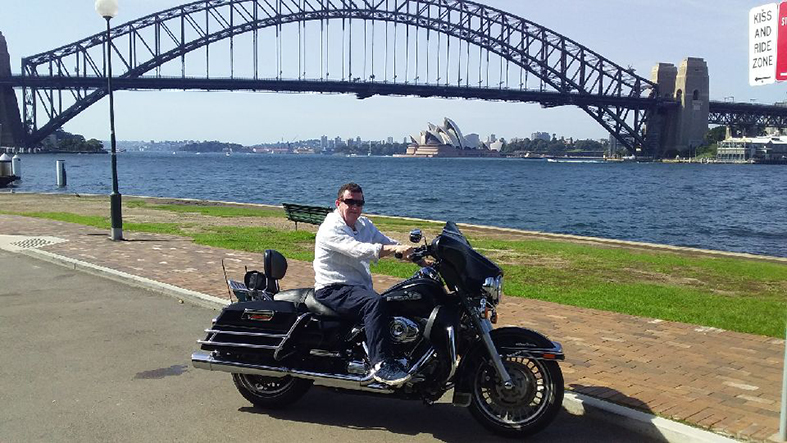 Our passenger is from the UK and was given this present by his son. They are both over here in Australia for a holiday. The Harley Manly Patrol ride was their choice and it was a good one.
Harley Manly Patrol ride
Perry picked Alan up from Wynyard Station and took him on a fun experience. Firstly they rode over the iconic Sydney Harbour Bridge to Blues Point Reserve. There they stopped for photos and a look at the beautiful view towards the Sydney Opera House and the Harbour Bridge.
They continued on through the lovely lower north shore suburbs. This includes checking out Balmoral Beach and riding over the Spit Bridge. They rode on to Manly and past the famous Manly Beach.
The northern beaches really are spectacular, one of our favourite areas of Sydney. The coastline is magnificent. They rode along the coastline for a while until they reached Narrabeen Lakes. From there they rode along the treelined Wakehurst Parkway.
So they came back to Sydney a different way. Alan was able to see a lot more of Sydney than he would have as a typical tourist. The Harley Manly Patrol ride is a great tour to see many of the beautiful beaches which are hard to see unless you have a vehicle.
https://trolltours.com.au/product/design-your-own-ride/
Manly Beach is a beach situated among the Northern Beaches of Sydney, Australia in Manly, New South Wales. From north to south, the three main sections are Queenscliff, North Steyne, and South Steyne.
So I have just found an interesting tidbit: The beach was named by Capt. Arthur Philip for the indigenous people living there. Philip wrote that "[the indigenous people's] confidence and manly behaviour made me give the name of Manly Cove to this place".
Wakehurst Parkway's ghost
Another interesting theory, it makes the area a lot more interesting!
https://www.9news.com.au/2018/10/30/19/46/haunted-roads-wakehurst-parkway-sydney-northern-beaches-ghost-kelly-halloween
https://trolltours.com.au/wp-content/uploads/2019/03/Harley-Manly-Patrol-ride-Al1.jpg
443
787
Kat
https://trolltours.com.au/wp-content/uploads/2016/08/logo.png
Kat
2019-03-24 17:10:54
2019-03-24 17:11:33
Alan 24.03.19 – Harley Manly Patrol ride