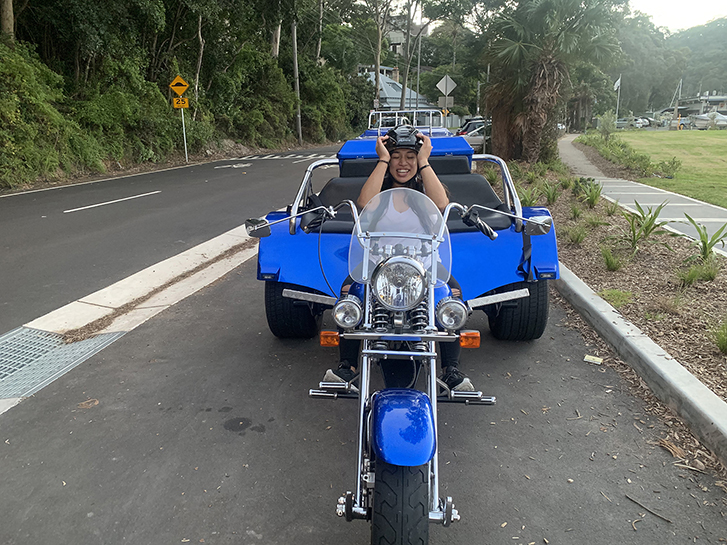 It was Maggie's trike tour birthday present and it was a great present! Our trike rider Steve picked them up from their home in the upper north shore of Sydney. Not wanting to go near the city due to Friday afternoon traffic we organised a different route.
They rode along Mona Vale Road and down to Coal & Candle Creek. They then continued along through the Wakehurst Parkway. It's a great road for a ride with trees lining it. For a short time you could think you are in the country. It used to be more fun when the speed limit was 80km/h but it has been reduced due to construction work on a new hospital. They continued into Roseville and then back to drop off.
The trike tour birthday present was a fun way to celebrate a birthday and to start the weekend. https://trolltours.com.au/product/design-your-own-ride/
Coal and Candle Creek is a creek located in the northern beaches area of Sydney. It is a tributary of Cowan Creek which flows into the Hawkesbury River. The Hawkesbury River (also Hawkesbury-Nepean River), is a semi–mature tide dominated drowned valley estuary. It is located to the west and north of Sydney,. The Hawkesbury River and its associated main tributary, the Nepean River, virtually encircle the metropolitan region of Sydney.
The Hawkesbury River has its origin at the confluence of the Nepean River and the Grose River, to the north of Penrith and travels for approximately 120 kilometres (75 mi) in a north–easterly and then south–easterly direction to its mouth at Broken Bay, about 15 kilometres (9.3 mi) from the Tasman Sea.
The "Upper North Shore" usually refers to the suburbs between Roseville and Hornsby, north-west of the Sydney CBD.
https://trolltours.com.au/wp-content/uploads/2019/03/Harley-trike-tour-birthday-present-MagZen1.jpg
545
727
Kat
https://trolltours.com.au/wp-content/uploads/2016/08/logo.png
Kat
2019-03-04 18:25:48
2019-03-04 18:26:10
Maggie + Zenti 01.03.19 – birthday trike tour present