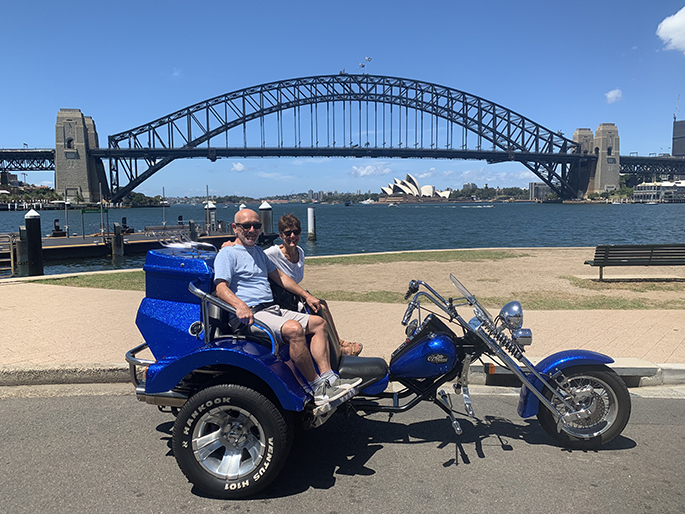 A Sydney sightseeing trike ride is definitely the best way to see the sights. From the UK, our passengers are here on a holiday for a short time. Steve picked them up at Circular Quay and took them on the Harbour Bridge Ride. Of course, the major attraction is the Harbour Bridge. It is great to ride over it without a roof blocking the view.
This way the structure of the bridge is more evident and impressive. Their first stop was Blues Point Reserve. There are wonderful views across Parramatta River where it joins Sydney Harbour. There is also a lovely view of the Harbour Bridge from the west side, looking east, with the Sydney Opera House in the background.
Next they did the Kirribilli Loop before heading back over the Sydney Harbour Bridge to the Royal Botanical Gardens. It has a a fabulous view in reverse. At the forefront is the Opera House with the Harbour Bridge in the background. Steve dropped them back at Circular Quay so they could catch the ferry back to Manly where they are staying.
A Sydney sightseeing trike ride is definitely worth doing especially if you have only a short time here. We can take you to the eastern suburbs or the northern beaches. To the Southern National Park or the Blue Mountains. It is really up to you.
https://trolltours.com.au/product/harbour-bridge-ride/
The Parramatta River is an intermediate tide dominated, drowned valley estuary. Basically this means it is a drowned river valley that remains open to the sea. With an average depth of 5.1 metres (17 ft), the Parramatta River is the main tributary of Sydney Harbour, a branch of Port Jackson. https://en.wikipedia.org/wiki/Parramatta_River
The beautiful Blue Mountains are a mountainous region and a mountain range located about 50 kilometres (31 mi) west of Sydney city.
https://trolltours.com.au/wp-content/uploads/2019/02/Harley-Sydney-sightseeing-trike-ride_geJa1.jpg
514
685
Kat
https://trolltours.com.au/wp-content/uploads/2016/08/logo.png
Kat
2019-02-18 15:05:30
2019-02-18 15:05:49
Jackie + Geoff 15.02.19 – Sydney sightseeing trike ride