Tourism Australia
Happy Mother's Day to all the different types of mums in our lives!
To all the mothers, grandmothers, godmothers, stepmothers, mothers-in-law, and women who love with a mother's heart. 💕

Click the photo twice to see the whole photo. It is beautiful. Photo credit: Tourism Australia
http://trolltours.com.au/wp-content/uploads/2020/05/Harley-tour-Mothers-Day.jpg
1250
1016
Kat
http://trolltours.com.au/wp-content/uploads/2016/08/logo.png
Kat
2020-05-10 15:31:23
2020-05-10 15:40:33
Happy Mother's Day!
ANZAC BRIDGE SYDNEY – in memory of ANZACS is on the 25 April every year.
The Anzac spirit
The Anzac spirit is all about looking after your mates. It is only fitting that the bronze statue of an Aussie Digger standing sentry on Anzac Bridge, keeps an eye on his Kiwi counterpart on the opposite side.
The New Zealand soldier is 2cm taller than his counterpart and also eight years younger. He was winched into position in time for Anzac Day in 2008. The sculptor Alan Somerville said the height difference is because the trans-Tasman Digger (NZ) is wearing the traditional "lemon-squeezer" headwear, while the Australian has the famous slouch hat.
Interestingly, inside the plinth on which the Kiwi Digger stands, is a jar of sand from the shores of Gallipoli.
It is said "When the statue is placed on its plinth, it will be angled so that the Digger faces the setting sun, while the Kiwi will greet the dawn." The Daily Telegraph of April 16, 2008 had an article about the unveiling of the New Zealand soldier. Thanks to the Daily Telegraph for the photo of the Australian soldier (on the left).
The Anzac Bridge
The ANZAC Bridge, formally known as the Glebe Island Bridge, was completed in 1996. With a span of 345 metres, it is the longest cable-stayed bridge in Australia. The Anzac Bridge is an eight-lane cable-stayed bridge that carries cars along the Western Distributor (A4). It crosses Johnstons Bay between Pyrmont and Glebe Island (part of the suburb of Rozelle), on the western fringe of the Sydney CBD.
The bridge was opened to traffic on 3 December 1995 as the Glebe Island Bridge.
However, the Anzac Bridge was given its current name on Remembrance Day in 1998. It is to honour the memory of the soldiers of the Australian and New Zealand Army Corps (known as Anzacs) who served in World War I. Now, ANZAC Day includes soldiers of all wars. An Australian Flag flies atop the eastern pylon and a New Zealand Flag flies atop the western pylon. On Anzac Day in 2000, a bronze memorial statue of an Australian Anzac soldier ("digger") holding a Lee–Enfield rifle in the "rest on arms reverse" drill position, was placed on the western end of the bridge. A statue of a New Zealand soldier was added to a plinth across the road from the Australian Digger. He is facing towards the east, and was unveiled by Prime Minister of New Zealand Helen Clark on Sunday 27 April 2008.
Thanks to https://en.wikipedia.org/wiki/Anzac_Bridge for the information.
Harley and trike tours over the Anzac Bridge
ANZAC BRIDGE SYDNEY – in memory of ANZACS – we can take you over the Anzac Bridge on our Harley and trike tours. Our 3 Bridges http://trolltours.com.au/product/three-bridges-trike-tour/ will take you over the wonderful Anzac Bridge. Or, we can adapt another tour or design a completely new tour to take you over the Anzac Bridge. It's our favourite bridge of Sydney.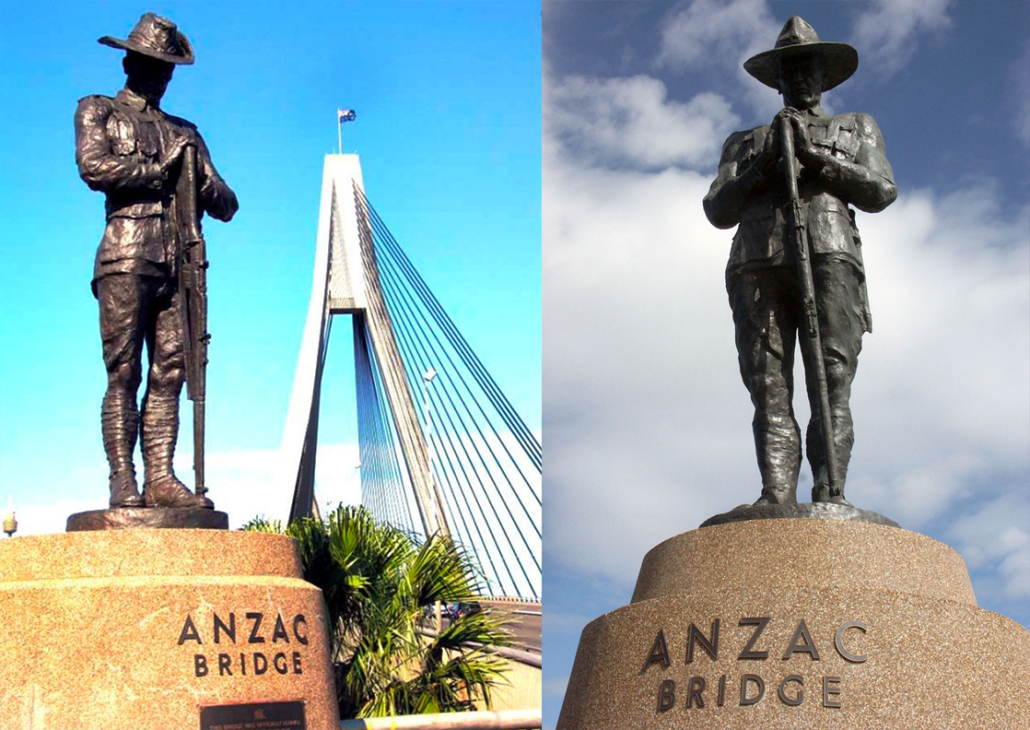 http://trolltours.com.au/wp-content/uploads/2016/08/logo.png
0
0
Kat
http://trolltours.com.au/wp-content/uploads/2016/08/logo.png
Kat
2020-05-02 15:47:56
2020-05-02 16:46:13
ANZAC BRIDGE SYDNEY - in memory of ANZACS
We are still open for business – Gift Vouchers. These certainly are difficult times for everyone. Almost every business is suffering to some degree. and we are no exception. The tour and travel industry is basically non-existant now. As you would imagine, we are not legally allowed to take people on Harley tours or rides anymore, this includes the trikes.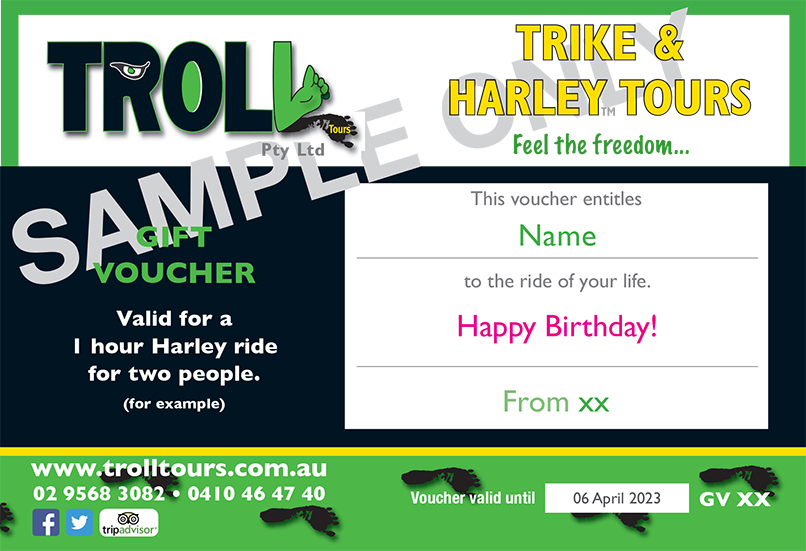 Gift Voucher
However, our office is still open. If you are wondering what to give someone for their birthday, or for Mother's Day next month, we can organise a Gift Voucher for you. The best way would be for us to email it but we can also print it and post it if you'd prefer.
We will extend the expiry date
For Gift Vouchers bought during this COVID19 pandemic, we will extend the expiry date for 3 years. This should give peace of mind that it will be used. If, for some reason the virus is still around in 3 years we will refund your payment in full.
A Gift Voucher in these uncertain times, will give hope. It will show that there is something to look forward to. One day life will get back to normal. We intend to weather this virus storm out and be here to put smiles back on the faces of our passengers.
Our Harley and trike tours are definitely the best
Our Harley and trike tours are definitely the best way to see the sights and sites of Sydney. Whether for 1 hour or 4 hours, or longer, we know you will have a lot of fun and see some interesting and iconic nature, beaches and buildings.
An interesting fact about Sydney Harbour
Here is an interesting fact about Sydney Harbour. The harbour is a drowned river estuary carved out of the sandstone about 29 million years ago. The sea level rose about 17,000 years ago flooding the river and creating the harbour. Around the world, it really is hard to think of a more beautiful harbour than Sydney Harbour.
https://en.wikipedia.org/wiki/Port_Jackson
So, we are still open for business – Gift Vouchers. Contact us today to organise one.
http://trolltours.com.au/product/gift-certificate
http://trolltours.com.au/wp-content/uploads/2016/08/logo.png
0
0
Kat
http://trolltours.com.au/wp-content/uploads/2016/08/logo.png
Kat
2020-04-06 16:58:34
2020-04-10 14:31:52
We are still open for business - Gift Vouchers